Golden Touch
The rise of Muppa Venkaiah Chowdary, Chairman of Muppa Group
He has developed a flair for identifying potential lands at best prices and eventually created a very good land bank with potential for premium housing business. He is well supported by his two sons, Ashok Vardhan and Vishnuvardhan.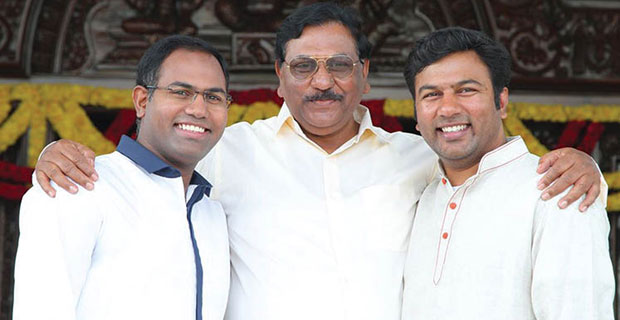 Mr Muppa Venkaiah Chowdary with sons Dr Muppa Vishnu Vardhan (left) and Mr Muppa Ashok Vardhan (right)
Mr Ashok Vardhan is an M.B.A in Finance and a CFA from Harvard University. He plays a pivotal role in coordination and integration of group operations. His proven expertise helps the company in resource pooling, project funding and corporate management. He is heading Muppa Infrastructure Pvt Ltd.
Dr. Vishnu Vardhan, is a medical doctor by profession. He has chosen the field of real estate because of pure passion. Known to be a straightforward, honest and transparent person, his contributions to the marketing and sales functions of company are immense.
Muppas as a group have been in realty business for more than 15 years. The company "MUPPA PROJECTS INDIA PVT. LTD" is established in 2012 and today is identified as a fast emerging real estate company of Hyderabad. This company is promoted by Sri Muppa Venkaiah Chowdary and Dr M. Vishnu Vardhan.
Through the years, the company has established a strong customer base, built a loyal supplier community, developed a committed work force and a strong management team to deliver projects to match the expectations of customers and compete with top Real Estate companies of Hyderabad.