TRUMP, REPUBLICAN COMMITTEES AT LOGGERHEADS
Former US President Donald Trump and the Republican committees seem engaged in a battle of wits with the Republican National Committee (RNC) saying it will cease funding his legal bills if he chose to announce his candidacy for 2024 too early. That's before the mid-terms on November 8 this year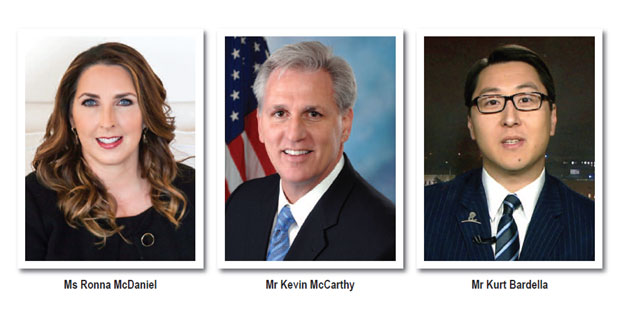 The RNC is currently bankrolling several legal cases for Trump, including personal lawsuits and government investigations into him. That flow of cash would end once he announces his candidacy for president in 2024, according to ABC News. Some see the move as an incentive for Trump to delay announcing his candidacy at least until after the 2022 midterm elections, which Republicans already seemed poised to win.
RNC Chair Ronna McDaniel had previously stated that the Republican Party cannot be biased in favor of any one candidate in the party's presidential primary. "The party has to stay neutral," McDaniel said as early as in January this year. "I'm not telling anybody to run or not to run in 2024."
Top-level members of the Republican Party have tried to influence Trump to delay announcing his candidacy until after the midterms. Many read that Republicans fear that a Trump announcement would upset the status quo of voters focused on inflation, gas prices and President Joe Biden's low approval rating. "My point to him has always been, 'Let's go win '22'," House Minority Leader Kevin McCarthy said in July of his conversations with Trump, adding that he encouraged Trump to hold off on an announcement.
Trump stated earlier in July that he has already made up his mind on whether to run, and that the main decision is now whether he will announce before or after the midterms.
According to a Washington Examiner finding, the RNC has paid almost $2 million in legal fees for the former president as he faces different investigations into his financial dealings and conduct during the January 6, 2021 attack on the Capitol. A committee official told ABC News those payments will end soon after Trump announces a reelection bid because of the RNC's policies on maintaining neutrality in elections, meaning if the former president announces a bid too soon, the RNC could stop contributing to his legal costs.
Trump has repeatedly teased a third bid for the White House, boosting those rumors even further during a speech in Washington, D.C., this week. "I won the second time. I did much better the second time," Trump said at the America First Agenda Summit. "We may just have to do it again."
The RNC has paid much of Trump's legal costs, giving at least $1.73 million to three law firms representing the former president between October 2021 and June, as well as a $50,000 payment last month, according to the report. The committee has used payments for the former president's legal challenges as leverage before. The RNC once reportedly threatened to stop paying for several of his post-election court challenges during a dispute after the 2020 election, according to a book from ABC News chief Washington correspondent.