Canada Doesn't Recognise Khalistan Referendum
Canada does not recognise the recent unofficial Sikhs for Justice (SFJ) referendum to express support for a separate Sikh nation-state, Consul General of Canada in Chandigarh Patrick Hebert remarked in September.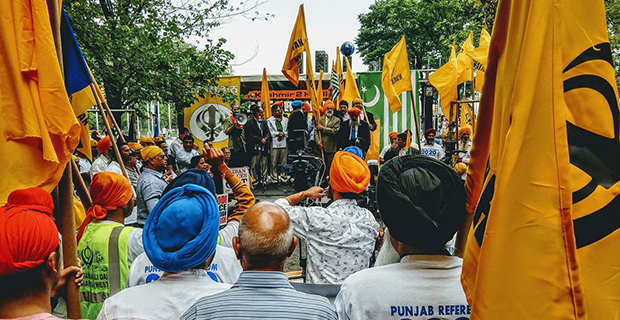 "We work very closely with local trade associations, such as CII, TiE and NASSCOM, to support greater business and trade relations between Canada and the region. I work very closely with Canadian provinces, which have offices in India, and they are keen to expand their trade relations with local partners," he said.
Saying the economic partnership is already robust, he said" "I remain convinced that a free trade agreement between our countries would give a serious boost to both Canadian and Indian exporters and investors, and would be mutually beneficial for both countries.
"I am also in contact with several officials from state governments in the region to explore how we can grow our economic partnership in a way that is beneficial to all parties. Our role as officials is to identify opportunities for companies from both sides to come together and create those partnerships."
Right now, the economic partnership between Canada and India is approximately C$100 billion. This includes C$70 billion in Canadian portfolio investment in India.
"However, I believe there is much room to grow our bilateral merchandise and service trade. In fact, the promotion of trade and investment was a key element of High Commissioner MacKay's visit in the region last June," said the Consul General, who this month met the Chief Secretaries of both Haryana and Punjab separately.
Firmly believing that there is a lot of room to grow the trade relations, he said: "A Canadian-India CEPA (Comprehensive Economic Partnership Agreement) will provide a number of advantages for the business community from both countries.
"It would also boost trade between two G20 trusted partners, and create more favourable conditions for our exporters, importers and investors."
For Indian business in particular, he said, a CEPA will open up opportunities with a proven reliable commercial partner. "Canada is a nation of free traders, as demonstrated by our 15 trade agreements, which cover 51 countries and nearly 1.5 billion consumers. Our experience has demonstrated that free trade agreements benefit both parties.
"This has been true for the Canada-United States-Mexico (CUSMA) agreement, the Canada-EU Comprehensive Economic and Trade Agreement (CETA) and the Comprehensive and Progressive Agreement for Trans-Pacific Partnership (CPTPP)."
An optimistic Hebert added, "I am confident that a Canada-India CEPA will also be beneficial for businesses in both countries."