"WE HAVE A CHERISHED ALLIANCE WITH INDIA"
India Empire's Editor Sayantan Chakravarty met up with H.E. Mrs Harisoa Lalatiana Accouche, High Commissioner of Seychelles who provided responses to our questions.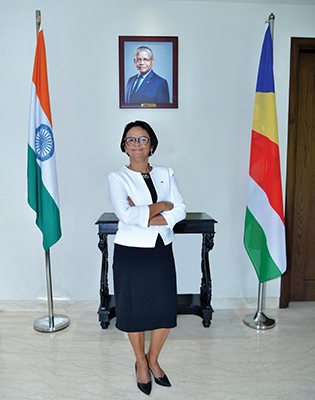 Please give us a sense of the extent of bilateral trade between India and Seychelles and which direction you see it going in the coming years…
While bilateral trade between India and Seychelles has been on a growth curve over the preceding decades, its volume has yet to reach substantial proportions. Nevertheless, the future holds promising prospects for augmenting this trade relationship. Seychelles' strategic location in the Indian Ocean region serving as an important gateway to East Africa is indeed a compelling factor for Indian companies to consider Seychelles as a potential market for their products and services. This scenario unveils opportunities for India to leverage Seychelles as a hub for its exports to Africa, a market which is demonstrating considerable growth.
Several innovative strategies to enhance the trade relationship between the two nations have been raised, with the private sector envisioned to take the lead and play a significant role. Since my arrival, I have observed a growing interest from the Indian CCI to explore this avenue.
One potential bottleneck, the absence of a direct shipping line between India and Seychelles, has been identified as a key factor hindering the growth of India-Seychelles trade. This issue merits closer examination and potential resolution.
In conclusion, despite the current trade between India and Seychelles being moderate, opportunities abound for trade growth in the forthcoming years.
What are the major investment opportunities by Indian companies in Seychelles?
There is considerable evidence of Indian investment within various sectors of Seychelles, including infrastructure, tourism, and healthcare. Renowned Indian enterprises have marked their presence within the Seychellois economy. Bank of Baroda, for instance, has been operating a successful overseas branch in Seychelles. The telecommunications giant, Airtel group, has been significantly contributing to telecom and internet services since 1998, and the TATA conglomerate has facilitated smoother transportation on the island through the provision of buses.
Despite these notable contributions, myriad investment opportunities persist across diverse sectors. The tourism sector offers a robust platform for investors. There is also scope in the fisheries sector, particularly in fish processing and packaging, and the burgeoning Blue Economy sector. Considering Seychelles' commitment to enhancing its renewable energy capacity via wind and solar energy projects, this sector is ripe for technological investment.
Agriculture, specifically food processing and the export of agricultural products, presents extensive possibilities, given Seychelles' fertile land and conducive agricultural climate. Healthcare, despite its modest presence in Seychelles, opens opportunities for investment in infrastructure and medical tourism.
Additionally, as Seychelles aims to transition to 100% renewable energy by 2030, there's an important need for further cooperation with India, one of the key players in the International Solar Alliance. Seychelles' drive to develop its IT sector implies investment opportunities in software development, business process outsourcing, and e-commerce.
The sustainable development of the ocean economy, or the Blue Economy, encompasses areas such as fisheries, aquaculture, and marine renewable energy, each representing potential investment sectors. Furthermore, the financial sector, backed by Seychelles' stable economy and favorable business conditions, invites investment in banking, insurance, and capital markets.
Moreover, initiatives like the Seychelles Investment Forum aim to attract Indian investors by highlighting investment opportunities in Seychelles. Calls are being launched inviting Indian investors to take advantage of these opportunities.
In essence, these sectors represent a rich niches of investment opportunities in Seychelles for Indian companies.
Insofar as tourism is considered, where does it stand today in terms of Indian tourist arrivals in Seychelles?
Tourism is an economic cornerstone of Seychelles, contributing significantly to the country's revenue and employment generation. Over recent years, Indian tourist arrivals in Seychelles have consistently risen, leading to Seychelles becoming a preferred destination among Indian travelers.
Data from the Seychelles National Bureau of Statistics (NBS) suggests a 21% growth in Indian tourist arrivals in 2019 compared to the previous year. However, the global COVID-19 pandemic and the ensuing travel restrictions resulted in a substantial decrease in these numbers.
Despite this, Seychelles has actively pursued promotional efforts in India to foster cultural and tourist exchanges between the nations. As international travel restrictions ease and flight operations resume, we anticipate a positive uptrend in Indian tourist arrivals in Seychelles. It is noteworthy that no visa is required for any nationality intending to travel to Seychelles, provided they possess return tickets, confirmed accommodation, and adequate funds for their stay.
The Seychelles Tourism Board has initiated various promotional activities in India to attract tourists, including participation in trade fairs, organization of road shows in major Indian cities, and opening a tourism office in Mumbai in 2021 to offer better tourist information and services to Indian travelers.
Efforts to enhance air connectivity between the countries, such as the resumption of direct flights by Air Seychelles between Mahe and Mumbai, are expected to further boost tourism by facilitating travel for Indian tourists.
The Seychelles High Commission also supports these efforts and took the initiative to collaborate with an agency in Delhi to organise a trip to Seychelles for diplomats from New Delhi.
Overall, these initiatives forecast an encouraging future for the increase of Indian tourist arrivals in Seychelles.