"WE HAVE A CHERISHED ALLIANCE WITH INDIA"
India Empire's Editor Sayantan Chakravarty met up with H.E. Mrs Harisoa Lalatiana Accouche, High Commissioner of Seychelles who provided responses to our questions.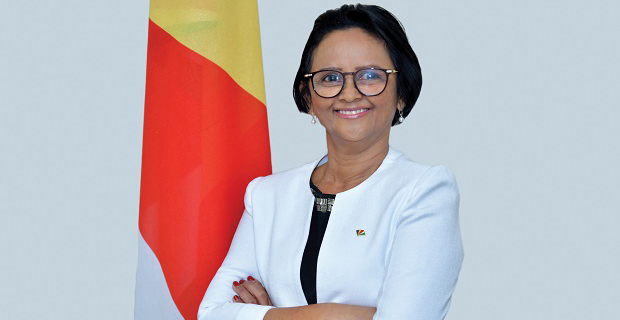 How can the Indian diaspora in Seychelles be leveraged to strengthen ties further between our two countries?
The Indian diaspora in Seychelles can play a critical role in strengthening ties between India and Seychelles in several ways:
The Indian diaspora in Seychelles plays a significant role in the island nation's economic development. They can take on a pivotal role in further bolstering India-Seychelles ties by promoting and facilitating cultural exchanges through various events and festivals. Such initiatives enhance the understanding of traditions and customs of both nations, which can lead to stronger bonds between the two countries and their peoples.
Leveraging business connections in India, the diaspora can identify and promote business opportunities in Seychelles and vice versa, acting as a link between the business communities of the two nations. Their contribution towards Seychelles' development by sharing their skills and knowledge through education and training programs can be instrumental in helping Seychellois people acquire the necessary technical skills and expertise required for various industries. This not only strengthens human capital but also bolsters Seychelles' economic growth.
Through philanthropic activities, the Indian diaspora can also support social and charitable initiatives in Seychelles, thereby enhancing the quality of life for its inhabitants. Many Indian expatriates have established small businesses in Seychelles, creating local employment opportunities.
The Indian diaspora's investment in Seychelles' tourism industry has yielded considerable economic benefits, given the popularity of Seychelles among Indian tourists. Additionally, by investing in Seychelles' financial sector, the diaspora provides avenues for other Indian companies to invest in Seychelles.
Overall, the Indian diaspora's active involvement in diverse sectors makes them a powerful conduit for strengthening the ties between India and Seychelles, contributing to the growth and development of both nations.
What kind of cultural exchanges have taken place between India and Seychelles in recent times?
India and Seychelles have had significant cultural cooperation, culminating in numerous exchanges of cultural groups. The signing of Agreements in Culture and Education during Vice President Meriton's visit in 2019 has sparked an increase in these exchanges.
Several cultural events such as the Festival of India, Indian Food Festival, and Indian Film Festival take place annually in Seychelles. These events showcase India's diverse culture through films, cuisine, dance, music, art, and theater.
Indian cultural groups often visit Seychelles to perform classical Indian dances. Additionally, the International Day of Yoga has become a substantial cultural link between India and Seychelles. Indian yoga gurus annually visit Seychelles to conduct yoga classes and promote the traditional Indian practice of yoga.
Such cultural exchanges foster a better understanding of India's rich cultural heritage and strengthen the bonds of friendship between the two nations. Conversely, Seychelles has organized numerous events in India, such as Seychelles-India Day, cultural performances, food festivals, and other events showcasing Seychellois culture and lifestyle.
These exchanges have not only bolstered cultural and economic ties between the two nations but has also led to an increased appreciation and understanding of their distinct cultures. This appreciation positively influences the tourism industry and provides a platform for the exchange of ideas, knowledge, and innovation.
In conclusion, the cultural sector plays an essential role in the India-Seychelles relationship. The frequent exchanges of cultural programs, art, and crafts bring the people of both nations closer together and contribute to the shared cultural values that enhance their friendship.