Netaji Subhas Chandra Bose Not Yet Forgotten
Nearly sixty nine years after his disappearance, Netaji Subhas Chandra Bose, the man who caught the imagination of India's freedom-loving youth, remains a very alluring and timeless mystery. Author Anuj Dhar who's extensively researched Netaji and has now filed a case in court to reopen investigations into Netaji's disappearance, speaks with Assistant Editor Misha Sing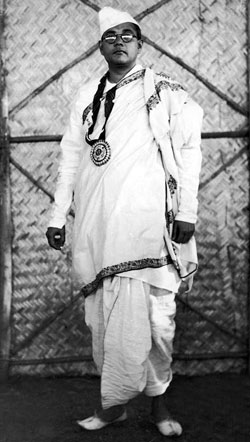 Why did political leaders who you claim met Netaji never admit having met him, even after all these years?
Whoever Bhagwanji was he was secretly visited by several famous people, the names of some of which I can tell. There are many more that I don't know. Dr Sampoornand, the chief minister of UP in 1955, someone who had known Bose since 1920's. His successor in the 60's Charan Singh was a favorite of Bhagwanji's. According to rumours and claims by Bhagwanji's followers, Indira Gandhi also came and so did her ministers, some of whom are still alive. Ma Anandamayee Ma and Sitram Onkarnath Thakur were among some reputed saints who were secretly maintaining contact with Bhagwanji. Madhav Golwalkar, RSS chief and the guru of the entire current top BJP and RSS top brass knew Bhagwanji and so did some "Aulia sahib" whose identity is not known to me. Bhagwanji often talked about matters relating to military and intelligence affairs and appeared to have inside knowledge. He seems to know things that were then classified.
Local journalists I met spoke of intelligence officials hovering around the places Bhagwanji stayed. From Kolkata, several of Bose's close aides, most prominently Leela Roy, maintained links with Bhagwanji. Leela Roy's follower Professor Samar Guha went on to agitate in Parliament about the need to find out the truth about Bose. It is because of late Guha that today Indian state accords some honour to Bose and the matter has reached this stage.
Even the CIA declassifies information on sensitive subjects, such as the Watergate issue, after a few decades. What prevents the Government of India from declassifying information on him, especially after three commissions have tried to unearth the truth about his mysterious death?
Cover-up is resorted to only by those who want to hide. If my government had nothing to hide it wouldn't have resorted to gratuitous secrecy and machinations to prevent the truth from becoming known. The Netaji mystery, make no mistake, is a political issue and it won't be resolved till such time a prime minister has mustered the courage to open the proverbial Pandora's Box.
What does the Government of India gain by withholding classified information? What kind of secrets will topple out of the cupboards?
The cover-up in the Netaji matter, I repeat, involves many details and concerns many people since the establishment as a whole saw to it that the people do not know the truth. I think someone at one point in time made a wrong decision and the same was carried forward to cover-up the original mistake. The political masters dictated their stand and bureaucrats carried it out. As to how bitter the truth would be, secret files available to our government reveal that the INA treasure, the war chest Bose had created with the help of expat Indians, was looted. The worse thing is that the looters were not only not touched, one of them got a promotion in government job. Secret files also show that over the years India has been paying some money to Renkoji temple, where the so-called ashes of Netaji have been enshrined. Also, the government of ours has not been able to answer a question why it ratified a UN treaty concerning war criminal in 1971. There's much more. The Watergate scandal was marked by obstruction of justice, destruction of incrementing material, misuse of intelligence agencies, spying on journalists and others. When you go through the murky details of the cover-up of the Netaji issue you'd come across all of that.
You claim that the chief reason for the British to leave India was not Gandhiji's non-cooperation and non-violence, but the threat from Netaji. How do you back up this claim?
No one can deny the wonders Gandhiji did for India or his contribution to the freedom struggle. But to say that the Quit India movement led to the British departure in 1947 is stretching it too far. The movement was crushed within months of its launch and there was no trace of it in subsequent years. On the other hand, declassified records and observations made by those who knew the best, including the then Intelligence Bureau Director, make it clear the British left India because the war had weakened them considerably and Bose's INA had caused much turmoil in the Indian Army, the tool that had enabled them to keep a strong grip on India. In February 1946, Prime Minister Clement Attlee was told by a delegation of British MPs that "we should arrange to get out" or "we should wait to be driven out" as "the loyalty of the Indian Army is open to question". Ten years later Attlee visited India and admitted that Gandhi's tactics had "minimal" impact on his decision to grant India freedom. At the same time, Dr BR Ambedkar too opined that it was the impact of Bose's INA on the Indian Army not Gandhi's ahimsa that brought freedom. In the 80s would be governor Lt Gen SK Sinha, one of the three Indian officers in British dominated Directorate of Military Operations of 1946, disclosed that the colonial rulers concluded "that the Indian Army could no longer be relied upon to remain a loyal instrument for maintaining British rule over India".
Do you expect a Government other than one led by the Congress to declassify information on Netaji, and tell the nation the truth as it was uncovered?
No. I am somewhat hopeful about Narendra Modi. That's why I have sent him several feelers in past and he is aware of the issue, though not in detail. Netaji's family members also met him and he seemed quiet interested. In January this year the BJP president Rajnath Singh announced that when the BJP is in power it will settle the mystery. Well, in view of BJP's own not to so sterling role in past and other complications, it won't be that simple. But then there is a hope.