DIASPORA DIPLOMACY
In February, Prime Minister Narendra Modi said India-UAE ties go beyond trade and both...
A MoU for technical cooperation in the rail sector was also signed between the Ministry of Railways of India and the Federal Transport Authority—Land and Maritime—of the UAE. This aims at cooperation in infrastructure sector, especially railways and will facilitate development of joint projects, knowledge sharing, joint research and technology transfer. It envisages the formation of a joint working group for institutionalizing the cooperation mechanism.
To deepen bilateral cooperation in the field of finance, a MoU between the Bombay Stock Exchange (BSE) and Abu Dhabi Securities Exchange (ADX) was signed. It aims at enhancing cooperation between both the countries in financial services industry.
The MoU envisages information exchange, exchange of experts and training for mutual benefit of both the countries. It will facilitate investment in financial markets by investors from both the countries. A separate MoU was also signed between the Jammu and Kashmir Government and DP World to establish multi-modal logistics park and hub in Jammu comprising warehouses and specialized storage solutions. During the delegation-level talks, the issues of security, investment and people-to-people ties figured, it is learnt.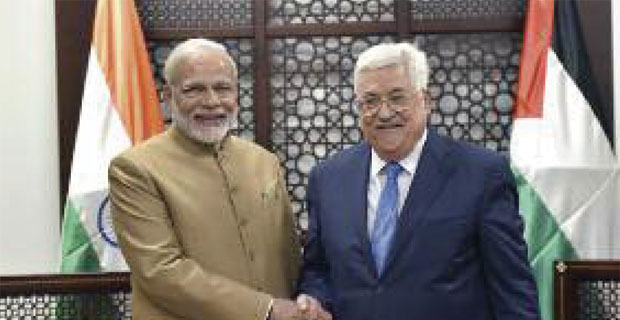 Mr Modi meets President of the State of Palestine, Mr Mahmoud Abbas, at Ramallah, Palestine in February 2018
While the UAE is one of the largest suppliers of crude oil to India, it is also the 10th largest investor in India in terms of foreign direct investment (FDI), having invested an estimated USD 8 billion. As of 2016-17, India-UAE trade stood at around USD 52 billion, making India the largest trading partner of the UAE, while the Gulf nation is the fourth largest trading partner of India.
Earlier Mr Modi visited Palestine in what was the first ever prime ministerial visit from India there.