DIASPORA DIPLOMACY
In February, Prime Minister Narendra Modi said India-UAE ties go beyond trade and both...
MoUs with UAE
India and the UAE in February signed five MoUs, including in the areas of energy and railways, following delegation-level talks headed by Indian Prime Minister Narendra Modi and Crown Prince of Abu Dhabi and Deputy Commander of the UAE Armed Forces Sheikh Mohammed Bin Zayed Al Nahyan. A MoU was signed between an Indian consortium comprising ONGC Videsh, Bharat PetroResources, Indian Oil and the Abu Dhabi National Oil Company (ADNOC) for acquisition of 10 per cent participating interest in the offshore Lower Zakum Concession, according to the Ministry of External Affairs.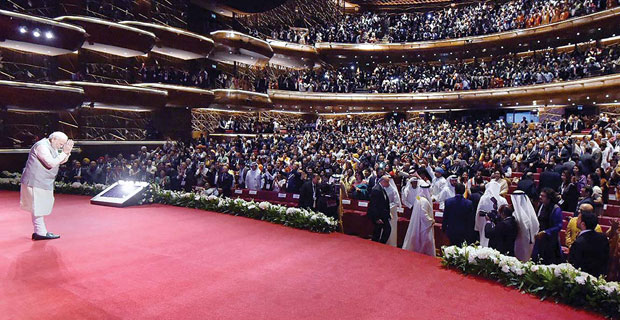 PM Modi greets the Indian community at the Dubai Opera in UAE in February 2018
The concession will be for 40 years (2018-2057). While 60 per cent of the participating interest will be retained by ADNOC, the remaining 30 per cent will be awarded to other international oil companies. This is the first Indian investment in upstream oil sector of the United Arab Emirates (UAE), transforming the traditional buyer-seller relationship to a long-term investor relationship.
To cooperate in the field of manpower, the two sides signed a MoU that aims to institutionalize the collaborative administration of contractual employment of Indian workers in UAE. Under this MoU, both sides will work to integrate their labor-related e-platforms for ending the existing malpractices, combat trafficking and organize collaborative programmes for education and awareness of contractual workers.