DIASPORA DIPLOMACY
In February, Prime Minister Narendra Modi said India-UAE ties go beyond trade and both...
Mr Modi also witnessed through video-conferencing the foundation stone-laying ceremony of the Bochasanwasi Shri Akshar Purushottam Swaminarayan Sanstha (BAPS) Temple on the Abu Dhabi-Dubai highway. The ground-breaking ceremony of the first Hindu Temple in Abu Dhabi was live-streamed to the Dubai Opera House.
Mr Modi thanked Crown Prince of Abu Dhabi Mohamed bin Zayed Al Nahyan on behalf of 1.25 billion Indians for the construction of the Temple. "I believe this Temple will not only be unique in terms of architecture and splendor, but will also give a message of Vasudhaiva Kutumbakam (the world is one family) to people across the world," he said. Wooing UAE businessmen to invest in India, Prime Minister Modi said India's leap in World Bank's ease of doing business rankings from 142 to 100 was "unprecedented, but we are not satisfied. We want to do better. We will do whatever it takes to make that happen." This was Mr Modi's second visit to the UAE after his trip in 2015.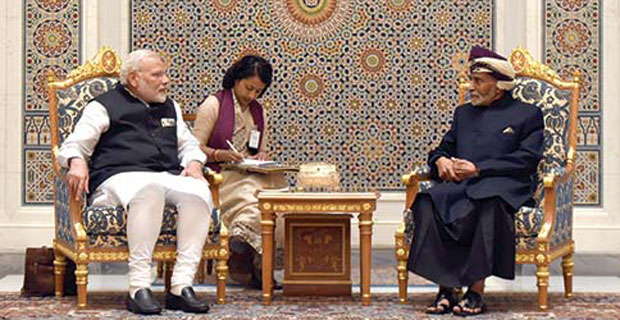 Prime Minister Modi at the delegation level talks with Oman's Sultan Qaboos bin Said Al Said at Bait Al Baraka, Muscat in February 2018PM in
Oman
Thousands of Indian expats in Oman travelled from different parts of the Gulf kingdom to listen to visiting Prime Minister Narendra Modi, also in February. Indian Social Club (ISC) Sohar Executive Committee Member and General Secretary M Rajesh said the excitement among the diaspora in Salalah, Sohar and Sur was palpable. Over 1,000 people were coming down from Sohar alone, he said, adding that ISC Sohar has arranged for two buses to ferry people to and from Muscat for the event at a nominal sum. "It's really exciting to be able to see the Prime Minister. Citizens want to see him in person. It's a great atmosphere."
Indian Social Club (ISC) Salalah Chairman Manpreet Singh said that he along with 75 or so Indian expats had boarded a flight to Muscat to listen to Prime Minister Modi's speech.