"Our growth rate has been almost double the EU average"
What does Bulgaria offer to foreign investors? What are the advantages that make your country attractive for foreign investors?
We have the most favorable tax regime in Europe with the lowest taxes—10 per cent corporate tax, 10 per cent flat rate for personal income. We have very good pricing for resources compared to other EU nations. So statistically, Bulgaria is the market with the lowest operating cost of production. For investors that are planning to move production, or start a new production, Bulgaria would be one of the favorite places to invest. We at the ministry are putting in a lot of efforts for companies to register. It does not matter whether they are foreign companies or Bulgarian. Once they register they become eligible to apply for EU funds. We have a lot of EU funds coming to Bulgaria. For companies to invest in innovation, improve their competitiveness, their infrastructure, HRD, administration services and many others, we are running state-owned industrial zones. We have a national company for industrial zones that has just recently signed a MoU with FICCI.
Are Indian companies interested in investing in Bulgaria? In which sectors?
We have a good presence of Indian companies in Bulgaria that are invested and operational. Most of them, in fact, are planning to expand their investments. The major sectors are IT, IT-outsourcing, agriculture, pharmaceuticals.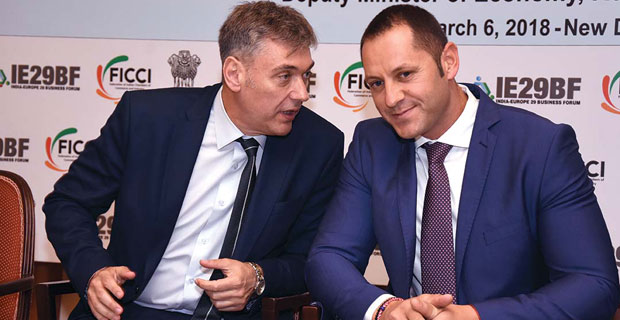 H.E. Mr Aleksander Manolev, Deputy Minister of Economy, Republic of Bulgaria and H.E. Mr Petko Doykov, Ambassador of the Republic of Bulgaria to India exchange notes during the meeting at FICCI in March 2018