SPELLING BEE INDIAN DOMINATION
Indian-origin children monopolise Spelling Bee championship for the 11th straight year...
Earlier in May 2018, Indian-origin Venkat Ranjan, won the National Geographic Bee, which carries a USD 50,000 scholarship, beating out two others. The second and third places in the contest, which tests knowledge of geography, were won by Anoushka Buddhikot and Vishal Sareddy.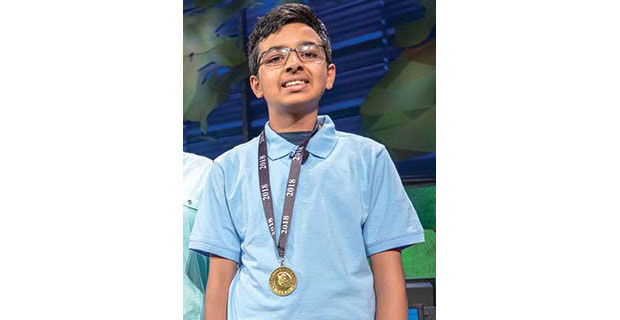 Venkat Ranjan
This year 515 contestants participated in the National Spelling Bee championship, the biggest number so far because of rule changes that widened the pool beyond the local champions and also included those without sponsors, who are usually newspapers. The contest held in Oxon Hill near Washington was televised nationally on the sports channel ESPN. Indian-origin children have won the Spelling Bee championship for 11 continuous years since Sameer Mishra won in 2008. In 1985, Balu Natarajan became the first Indian-origin child to win the Spelling Bee and 17 others have followed him. The Spelling Bee is not merely a memory test of exotic words as it also requires learning about the origins of words and the languages they are derived from. Almost a cult among Indian-Americans, Spelling Bees are organised by community organisations and by businesses wanting to reach them. Nemmani's cousin, Srivatsav who was a contestant, but didn't get to the finals, said: "I knew he was going to win. He studied for hours and hours and hours, countless hours."