NEW ASIAN HOME SECRETARY
A night of remarkable celebrations when for the first time ever, the Conservative Friends of India, Pakistan and Bangladesh...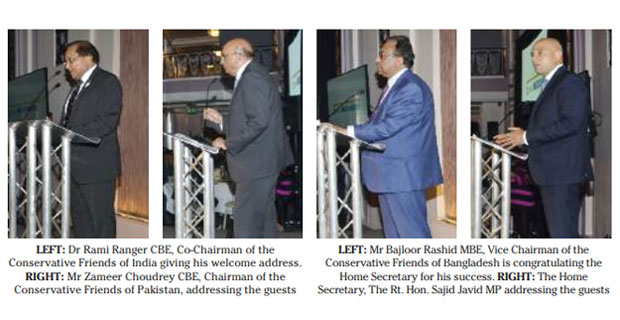 Mr Zameer Choudrey CBE, Chairman of the Conservative Friends of Pakistan, paid tribute to the Javid family and congratulated the parents and family on this milestone achievement and expressed the importance of the Party for the Asian community. He went on to say that he was pleased to be part of the joint celebrations.
Mr Bajloor Rashid MBE, Vice Chairman of the Conservative Friends of Bangladesh also congratulated the Home Secretary and emphasised the success of the Asian community and diversity and harmony within Great Britain.