Peerless Stalwart
Mark Spitz may have scorched the swimming pool at the Munich Olympics with seven gold medals, but he probably missed ...
LIFE IN CALIFORNIA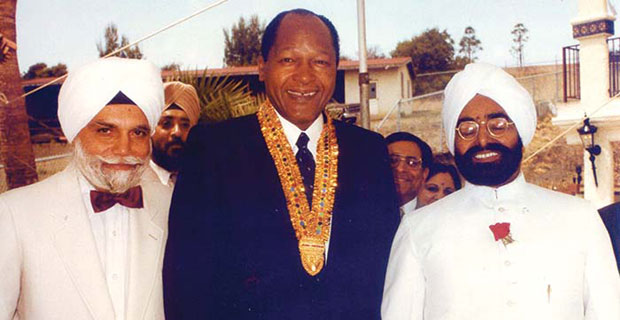 It was also in 1962 that Dr Marwah, his wife, Kuljit Kaur Sodhi, and three daughters—Anilam, Harpreet and Jaspreet—moved into their home at Baldwin Hill. It was the first Indian home to come up in the Los Angeles area. He was also the first practicing Indian doctor in California. There were only a handful of Indians in California those days, and the few that were there would regularly drop by to the Marwah home in Baldwin Hill. His enormous reputation preceded him. Not just Indians in California, but those coming from India, would regularly come knocking at his door. Indians knew that Marwah was the big ticket guy who could guide them to their dreams in the USA. And he did help out many.
Amarjit's reputation of having skillful hands in dentistry catapulted him to the big league in no time, and fame began to follow him like an ever-present shadow. Not too many can claim to leave Roman Holiday hero Gregory Peck open-mouthed for one reason or the other. Dr Marwah, the dentist did, for Peck was his client, as was the charming Elizabeth Taylor of Cleopatra fame. Both lived in Los Angeles. Dr Marwah had singer-actor Barbara Streisand as his neighbor at his 14-acre Malibu Ranch, while Hollywood star Martin Sheen was his tenant. The list of the wealthy, illustrious and powerful that he knew well, and those that knew him well, runs long, among them presidents and prime ministers. Both President Zail Singh and Prime Minister Indira Gandhi visited him in California. When President Gerald Ford's son got married, the venue was the Marwah family ranch overlooking the beautiful Pacific Ocean.
In many ways, Dr Marwah was a pioneer that arrived much before the "Indian invasion" of the West Coast. Even legendary figures began to arrive in Los Angeles only in the 1960s, such as Maharishi Mahesh Yogi, made famous in the West by the Beatles. Soon he was to become Dr Marwah's patient. Also over time arrived the likes of sitar maestro Pandit Ravi Shankar and Harbhajan Yogi.
At the dawn of the 1970s, Dr Marwah struck a deep friendship with Tom Bradley, the first black Mayor of Los Angeles, and after whom a terminal is named at the city's international airport. Bradley was a police lieutenant who contested for the City Council, and Dr Marwah was involved in the campaign. Bradley remained five-time mayor of Los Angeles. When his dear friend passed away, Dr Marwah was one of the pall bearers alongside Al Gore, America's Vice President. It was Bradley who had appointed the famous dentist a City Commissioner in 1974, a position he was to hold for 18 years, a record for any Indian American. He also chaired the Cultural Heritage Commission and the Hollywood Art Commission during this period. Nearly 300 sites, including the Walk of Fame and the Roosevelt Hotel, were declared protected monuments.