THE NEW DHAKA-DELHI CONNECTION
After a gap of five years which is an eternity in the volatile ...
Increasing presence in India and Dhaka serving as a transit hub…
In India as of now we are operating 14 flights a week from Kolkata. In 2020 we plan to start flying the Dhaka-Chennai sector and the Dhaka-Guwahati sector as well. InterGlobe is our GSA for entire India. Dhaka locational advantage means it connects both the west and the east, and people in India can use it as a hub to travel to destinations like Bangkok, Singapore, Kuala Lumpur and Guangzhou. In fact we've increased our frequencies to Kuala Lumpur, Singapore and Bangkok, as well as in the domestic market. If we establish Dhaka as a well-connected transit point, then our traffic will grow much better. We are, therefore, planning along those lines. By next year we will additionally acquire three brand new aircrafts from Bombardier in Canada. Next year we'll also be connected to Colombo (Sri Lanka) and Male (Maldives), both popular tourist destinations for Bangladeshi people. So we'd like to establish our stronghold in the South Asian market.

On profitability…
The Hon'ble President of Bangladesh visited New Delhi from 29-31 May 2019 to attend the Swearing-in Ceremony of the new Government of India on May 30, 2019. The distinguished guest has earlier paid a State Visit to India in December 2014, as well as an official visit in March 2018, for the first meeting of the International Solar Alliance. During the visit, Hon'ble Prime Minister of India H.E. Mr Narendra Modi met H.E Mr Md. Abdul Hamid, President of the People's Republic of Bangladesh on 31 May noon at Hyderabad House. During the meeting, the leaders expressed great satisfaction at the excellent state of bilateral relations.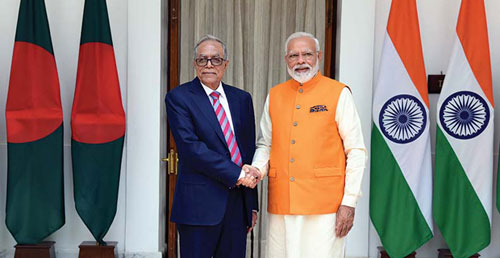 Prime Minister Mr Narendra Modi meeting the President of People's Republic of Bangladesh Mr Md. Abdul Hamid at Hyderabad House in New Delhi in May 2019
The visiting Hon'ble President conveyed felicitations of Hon'ble Prime Minister of Bangladesh H.E. Sheikh Hasina, who was unable to travel in person because of a prior commitment. He conveyed the invitation of the Government of Bangladesh to Hon'ble Prime Minister of India to visit that country, which was accepted with pleasure. The leaders agreed that dates would be decided through diplomatic channels. Hon'ble Prime Minister Mr Narendra Modi noted that the bilateral relationship, forged in Bangladesh's War of Liberation, remained of the highest priority to India.
In the past five years, the two countries had demonstrated great maturity and patience in resolving a number of complex pending issues, such as the demarcation of the Land Boundary. The Prime Minister emphasized the importance of India and Bangladesh raising ties to a new level, as part of a joint effort to suitably commemorate the centenary of the birth of Father of Nation Bangabandhu Sheikh Mujibur Rahman (in 2020) and the 50th anniversary of Bangladesh's Liberation, in 2021.
Between 2013 and 2017 we were in the black. In 2017-2018 we suffered losses and were briefly in the red. But in 2018-2019 we once again bounced back and have become profitable again. With more than 40 aircrafts and over 40 destinations to fly to, our year-on-year growth is there for one and all to see. The booming Bangladesh economy is clocking 8 percent annual growth but the aviation industry is soaring at 13-14 percent. So we're all set to tap into the potentialities that all markets provide. We have a new sales window that can be accessed on www.bimanholidays.com.