Day of Belarusian Written Language
Traditionally, the Day of Belarusian Written Language ...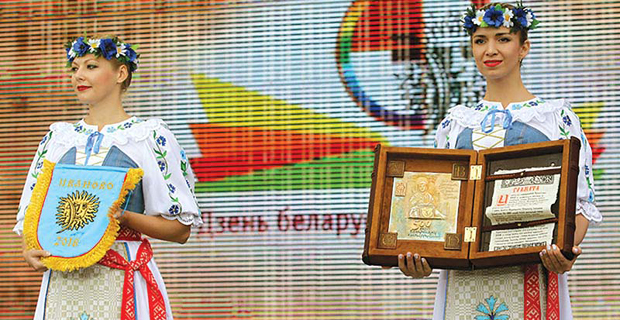 The heyday of Slonim during the second half of the eighteenth connected with the activities of Grand Hetman of Lithuania Michal Kazimierz Oginski (1728-1800). In Slonim, he built several enterprises. On his initiative and at his expense, a canal was built (1763-1783), which connected the tributary of Pripyat Yaselda with Shchara, and within the boundaries of the city leveled the sleeve of Shchara. The name of Oginsky is associated with the activities of the court theater, created around 1770. Professional Italian and Polish opera and drama actors, artists, serf choir and ballet worked in it. The Slonim orchestra (Capella), one of the largest court orchestras in Europe of that time, was widely known both for the number of performers (53 people) and for the availability of musical instruments. In 1795, Slonim became part of Russia, after which it was a provincial town for a year. Since 1801, Slonim is the center of Grodno Province County. In 1880, the Baranavichi - Warsaw road passed through Slonim, and in 1886 – the Baranavichy – Bialystok railway line, the railway station began to operate.
A major role in the development of industry in the city in the XIX-early XX century was played by landowners Counts the Puslovskys, who opened a copper, carpet, sawmill, Alberta cloth factory in the suburbs of Albertin. In the first half of 1915, Slonim became a front-line city, and on January 14, 1919 it was liberated by the Red Army from the Kaiser's troops. According to the peace Treaty signed in Riga on March 18, 1921, Slonim together with other cities and districts of Western Belarus was transferred to Poland. But on 18 September 1939, was liberated by soldiers of the Red Army.
Terrible years of the Great Patriotic War were the most severe test for citizens of Slonim. Slonim district suffered huge losses – 44 418 citizens died in the war years. The remains of 5 223 soldiers and 108 partisans rest in the Slonim ground. Over 10 thousand people were shot dead on Petrulevich mount, over 30 thousand- in Chepelevo fields, 2 thousand - in Morgi tract. On July 10, 1944, Soviet troops liberated the city from Nazi invaders.