Mongolia amends its 1992 democratic Constitution for the second time
Proposed changes and amendments to the new democratic ...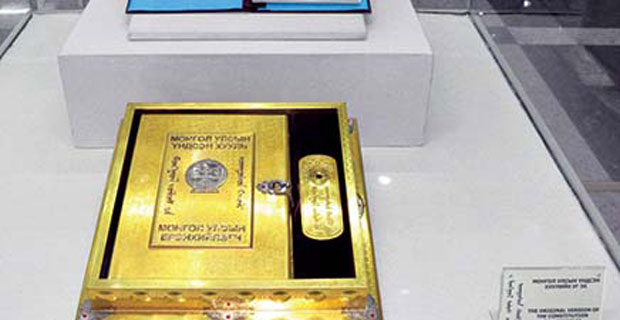 Original version of Constitution
The process culminating in the adoption of the draft changes and amendments
Consultative opinion poll was launched in April 2017, the first time in the history of the country.
Some 1,500 citizens from around the country, randomly selected, were included in the first stage of the consultations. More than 700 representatives of the people, deliberated the proposed changes and amendments for two days in the Government House.
Alongside this regional seminars and discussions were carried out in21 aimags – provinces, 53 soums – rural districts, 9 districts of Ulaanbaatar and among state organizations. Cumulatively, 5.6 million proposals and suggestions related to the proposed changes and amendments were registered.
The final draft bill of the changes and amendments were submitted to the State Ikh Khural – the Parliament, by 62 MPs on 6 June 2019.
A working group on national consensus was set up for the process, which was chaired by the President of Mongolia and at one of the first meetings, the President said: "If we succeed in changing and amending the Constitution in a manner that it becomes a whip rather than an impediment to development and progress, then opportunities would be created for addressing pressing issues confronting the country."
So, what changes and amendments were made?
The so-called "Seven Amendments that Impaired the Constitution", made in 1999, were reviewed for overhauling.
Legal foundations were laid for an equitable and fair distribution of the benefits from natural resources, and granting of majority rights to the people in enjoying from the returns from strategic mines.