"Fiji and India share deep and enduring ties"
On his nation's 50th year of independence H.E. Mr. Yogesh Punja, High Commissioner of Fiji to India, spoke to India Empire magazine's Editor and Publisher Sayantan Chakravarty on issues ranging from bilateral ties to the Indian diaspora, from diplomatic grouping in the southern Pacific to tourism opportunities ...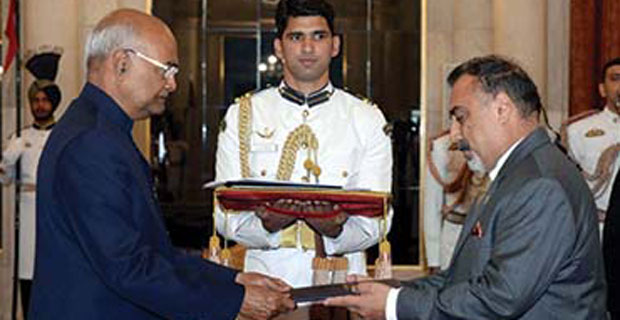 H.E. Mr Yogesh Punja handing over his appointment letter to the Hon'ble President of the Republic of India.
The establishment of a modern and inclusive 2013 Fijian Constitution, along with an unprecedented programme of administrative reforms across Government; substantial and consistent public investment in infrastructure, public utilities, education, health and social inclusion; and a concerted effort to position Fiji as the hub of economic activity and regional engagement in the Pacific. Fiji has also emerged as a respected advocate on some of the greater challenges facing humanity, including climate change, sustainable development and the preservation of our oceans.
Fiji's global leadership on two important SDGs on climate change and oceans has been demonstrated through the co-hosting of the 2017 United Nations Ocean Conference and the Fijian Presidency of COP23. Fiji is a signatory to a number of climate change related international agreements and has integrated climate change into the National Development Plan to bolster climate and ocean action at the local and international level.