"Fiji and India share deep and enduring ties"
On his nation's 50th year of independence H.E. Mr. Yogesh Punja, High Commissioner of Fiji to India, spoke to India Empire magazine's Editor and Publisher Sayantan Chakravarty on issues ranging from bilateral ties to the Indian diaspora, from diplomatic grouping in the southern Pacific to tourism opportunities ...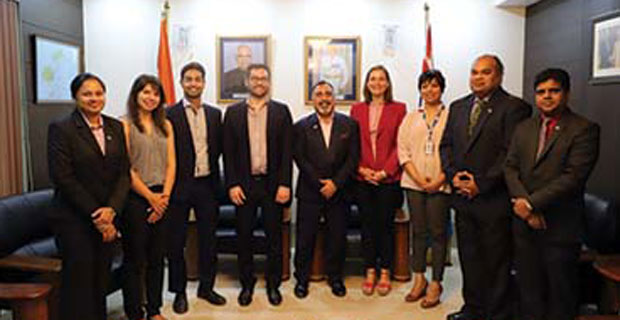 Team Fiji along with the Team from International Solar Alliance.
You helm a diplomatic group for nations in the Asia-Pacific region. How are you leveraging the advantages this group presents vis-à-vis your engagements with India?
Fiji is an influential voice in the Pacific Region and the developing world. The country's central position in the Asia-Pacific region has been strengthened by recent developments in sea and air communications and transport. Today, Fiji plays a major role in regional affairs and is recognized as the focal point of the South Pacific.
This strategic location of Fiji in the past has allowed Fiji to host regional conference and meetings organised by the Government of India in Fiji at bilateral and multilateral level; such as Forum for India-Pacific Island Countries (FIPIC I) hosted in Fiji in year 2014, India-Pacific Islands Sustainable Development Conference (IPISDC) in 2017, Regional Hindi Conference held in 2020, Establishment of regional training institute "Mahatma Gandhi Centre of Excellence in IT" in Fiji National University and hosting of regional level trainings in Fiji and many more.
Not only bilateral and multilateral meetings have been hosted in Fiji but NGO engagements such as Barefoot College Fiji as a host country for the Pacific Region whereby Fiji will be the first and only institutional facility in the Pacific where mastery of renewable energy technology coupled with a holistic approach to building entrepreneurial skills for women, with little to no previous formal education has been established.