"Afghans appreciate India's stance in supporting their cause"
In this interview with India Empire Magazine's Editor and Publisher Sayantan Chakravarty, Mr Tahir Qadiry, Chargé D' Affaires, Embassy of the Islamic Republic of Afghanistan in India and Co-Chairperson IAF (India-Afghanistan Foundation), speaks on wide-ranging issues, including a subject that has the entire world's attention—the peace process in Afghanistan and the dialogue that started with the Taliban in Doha, Qatar ...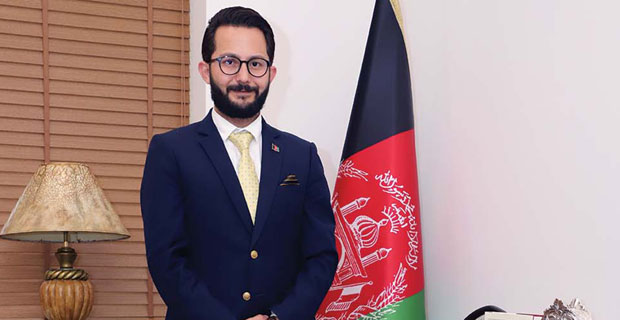 About 357 members of the minority community in Afghanistan have recently landed in India, saying it is no longer safe to continue living there. The Indian Foreign Ministry spokesperson said they had been receiving requests from Hindus and Sikhs in Afghanistan to grant them permission to settle down in India. The requests have gone up after the attack in the Gurdwara in March 2020. Do you see a time when these people will return to Afghanistan, the land they were born in?
Afghan Sikhs and Hindus have been an integral part of the Afghan community. We've been living and sharing good memories together. They are our people. They've contributed immensely to Afghanistan's trade and commerce. Unfortunately the terrorists have been killing Afghan people indiscriminately. It is really unfortunate that our Sikh and Hindu brothers and sisters have also been targeted. For them coming to India is like returning to a second home, like it is for all of us. Plenty of Afghans live in Delhi neighborhoods like Bhogal, Lajpat Nagar, Amar Colony, and India is home to them. The Afghan Government is committed to protecting the rights of every single Afghan as per the nation's Constitution. But as I said, we all have been indiscriminately attacked by the insurgents. It is not just one particular group that is targeted in Afghanistan, everyone in Afghanistan has been prone to such terrorist threats. H.E. The President of Afghanistan has got a special envoy for Sikhs and Hindus who keeps travelling between Kabul and Delhi. We've one Member of Parliament representing the Hindu and Sikh community. The people of Afghanistan have portrayed our nation as a garden full of beautiful flowers—our Hindu and Sikh brothers and sisters are an integral part of this garden.