Excerpts from Preface
This book is an account of my journey in search of the ultimate truth and a sincere desire to share some of the spiritual experiences I have had in my life.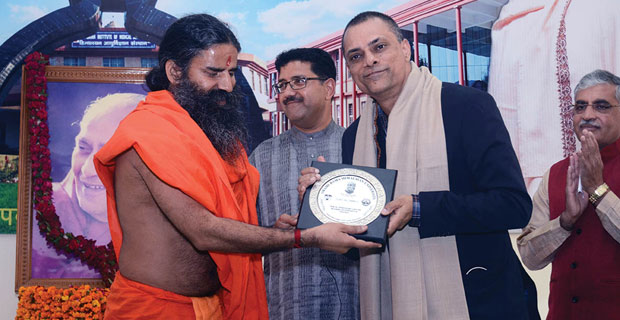 Publisher of Journey with a Himalayan Master Swami Rama, Sayantan Chakravarty, receives a recognition from Baba Ramdev
I am hopeful that recording my thoughts and some of the major events of my life may perhaps give me an insight into what I should do. I could ask my guru for guidance, but at the end of the day it would still have to be my decision.
Destiny has taken me pretty far in the corporate world, from a medical practitioner in Kota Kinabalu to chairman of several companies. But as I grow older, the wheeling and dealing that is unavoidable in the corporate world has become more distasteful and is no longer acceptable. When a man reaches 60 years he has to look at different goals. What is challenging to a 25-year-old becomes routine for a man of my age and stature for I've been there and I've done that. What was pleasure and challenge at 25 has become a bore at 60. Even more so for me, as I've always been spiritually inclined, always looking for a deeper meaning to life and wondering where all my endeavors will ultimately lead me. This inner quest has been both a boon and a bane. It has been responsible for my success but it also sets me apart, making me dissatisfied and pushing me to seek new frontiers.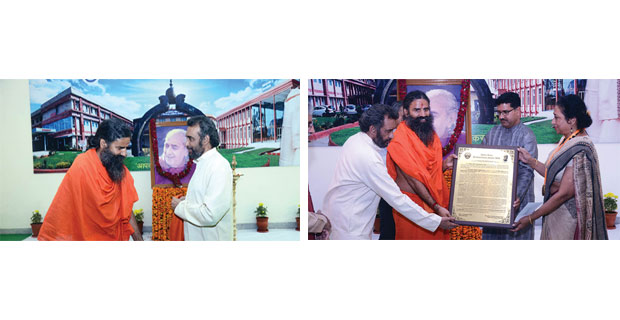 Left :Tan Sri Datuk Dr Mohan Swami recognizes Baba Ramdev. and Right : Baba Ramdev gives the Swami Rama Humantarian Award 2016 of the Himalayan Institute Hospital Trust to Dr Vibha Gupta. A committee headed by former CJI Mr M N Venkatachaliah selected her