SAHIL'S JOURNEY WITH AIDS
There was a time in the 1990s when the words AIDS, new to India, made most people gulp in horror. Sahil, affected by this deadly ...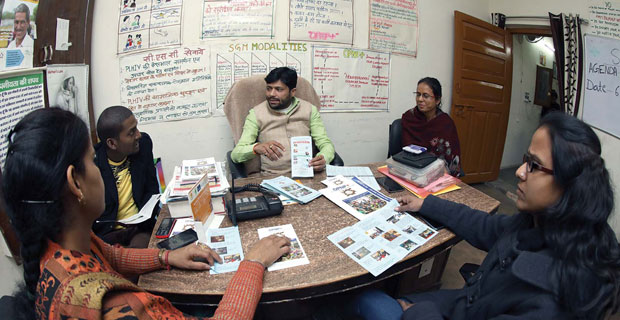 Sahil at a counselling centre
A month later he noticed a poster that said that for dealing with AIDS one could reach out to the Lady Hardinge Medical College, not too far away from the railway station. Below the announcement was a telephone number which he scribbled on his palm. When he dialled that number from a phone booth a lady picked up. Soon he was at the hospital wearing an impoverished and bedraggled look. His clothes were unwashed and stinking. He hadn't had a proper bath in a month. But the lady who had received the call met him with compassion in her eyes. She could relate to the suffering of the boy. She held out a cup of tea and biscuits and Sahil was clearly taken aback. He had been accustomed to constant rejection back in his village and this affection made him very emotional. He felt a mother's pull in the lady's gesture. He asked her why she was taking a chance with a boy like him, and she replied gently that AIDS was not contagious and could recover. She bought him two pairs of shirts and trousers from a vendor nearby and asked Sahil to take a bath. Soon he was sent to a doctor and went through a series of tests. The lady found a small place in a hotel where he could stay. He later learnt the woman she'd met was Mrs Vijay Lakshmi, a social worker. She was like a river of empathy in spate and Sahil's eyes moist up even today when he talks about her, some 22 years down the road.
Sahil remembers that his journey of receiving affection and getting medical attention from well-known doctors in Delhi completely turned his life around. An AIDS patient from the west regularly came to meet Sahil and a small group of HIV affected men and spoke about his own life and how he was working hard to change things around. One day the westerner asked Sahil and others to meet him near a Cathedral where a job opportunity was waiting. Two men got jobs, one of them was Sahil. His task was to be a counselor on nutrition for AIDS victims and encourage them to try and turn their lives around. He was earning about Rs 15,000. The money and the work infused much needed confidence in Sahil. He started holding workshops outside Delhi. He was making proposals for the NGO. Soon he was asked to lead a team, and grow the organization.