SAHIL'S JOURNEY WITH AIDS
There was a time in the 1990s when the words AIDS, new to India, made most people gulp in horror. Sahil, affected by this deadly ...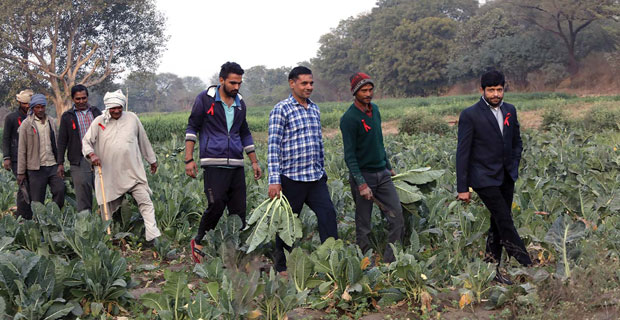 Sahil during an awareness campaign with AIDS affected villagers displaying red badges on the Delhi-Haryana border
One day while holding a workshop in Parliament Street he came across a girl whose name he later learnt was Henna. The two fell in love and much against her parent's wishes Henna and Sahil married. He was thirty and she was nineteen. A child was conceived through in vitro fertilization (IVF)—a series of procedures used to treat fertility-related issues and genetic problems. Today the once-ostracized Sahil, 37, has a three-year-old son and he loves him like no other.
Sahil the young boy from Darbhanga who came to Delhi on a train with his life in a complete mess has managed to bring things back on track. His disease today is under control.