SWAMI RAMA: MASTER OF CREMATION, TRANSFORMATION, RENUNCIATION
Sadhana Mandir Trust is the ashram established by Gurudev ...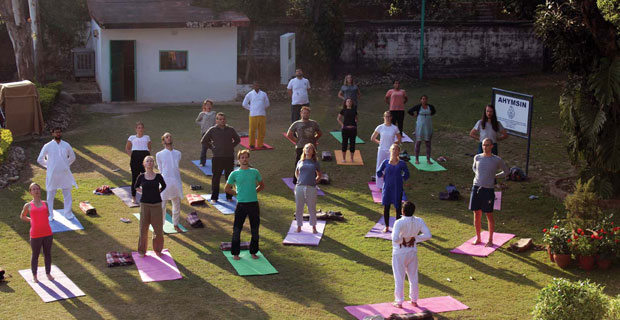 AHYMSIN
Gurudev explained that here on these sacred grounds of Sadhana Mandir, you will fulfill the purpose for which you were born. You have studied the teachings of Shankaracharya, and now you will live them as a sanyasi of the Bharati lineage. And after I leave this body, you will guide the spiritual seekers at this ashram, those seeking this light of knowledge who live here under discipline and control of senses. As Tapasvi they carry this flame on their head, and you will recognize such aspirants seeking truth. When they are prepared, initiate them, and impress the importance of remembering their mantra till their last breath. By this internal flame, the Tradition is passed awakening the light of perennial love in each and everyone who remains vigilant and sincere of heart.
Mahamandaleshwara Swami Veda Bharati continued to be a spiritual presence and guide students for the next decade until 2002, when, by the grace of Gurudev, he inaugurated Swami Rama Sadhaka Grama, the village of Sadhakas. This SRSG ashram, very close to Sadhana Mandir Ashram, continues the living tradition of the Himalayan Sages and the teachings of Swami Rama on a large 5-acres bhumi. Along with the residential ashram with 200-bed capacity, it is the World Headquarters of AHYMSIN, the Association of Himalayan Yoga Meditation Societies International, and operates under Dhyana Mandiram Trust. It also serves as the location of Himalayan Yoga Publications Trust, a gurukulam and research lab.