SWAMI RAMA: MASTER OF CREMATION, TRANSFORMATION, RENUNCIATION
Sadhana Mandir Trust is the ashram established by Gurudev ...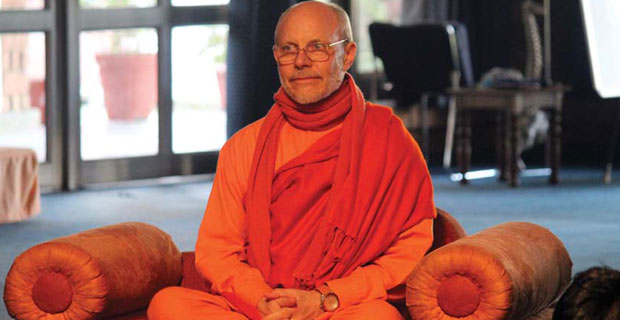 SWAMI RITAVAN
Swami Veda conveyed his Master's teachings by systematically guiding his students in the kriyas of shava-yatra, the procession of the corpse. These detailed subtle body practices in shavasana posture carried students into a deep state of resting. These are explained in his book Meditation and the Art of Dying, along with his book, Death Your Servant.
The Himalayan Tradition is represented in the bright being of Guru. Guru is the light of knowledge that flows as grace to the one who faithfully and sincerely prepares and attains. Our Gurudev, Swami Rama, bestowed the grace of the Guru on Swami Veda who attained enlightenment and cast his body while in his samadhi state. The Tradition states that this was not the end, for Swami Veda had taken the vow of bodhisattva, and will return to help future disciples on the path of enlightenment and perfection. Swami Rama explained that the Tradition is preparing the way for the arrival of Maitreya Buddha.
A further explanation of the Himalayan Tradition as conveyed in an unbroken Lineage of Masters is composed by Swami Rama in 15 statements found in the Final Chapter of Living with the Himalayan Masters.