IMPRESSIONS OF AN NRI
Dr Harvinder Sahota, world renowned cardiologist from Laguna Beach, California, shares his impression with Editor and Publisher Sayantan Chakravarty ...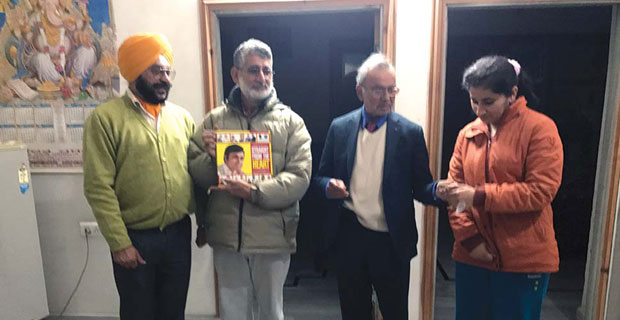 The house at FerozepurTankawali where DrSahota was born. It was at the yard of this house sometime in 1941 that he was declared dead as an infant before he took a life-saving breath after several minutes had passed by. To the left is the present principal of the Government High School in Ferozepur. Also seen are the present occupants (father and daughter) on either side of DrSahota.
On December 10 we visited Fatehgarh Sahib, the place where the two young sons of Guru Gobind Singh Ji were buried alive by the Mughals because they refused to convert themselves and become Muslim. That night was spent at the Marriot Hotel in Chandigarh and I must confess that it rivaled any top five-star hotel in the West. The hotel staff, the receptionist, the managers greeted us by saying Sat Sri Akal—a respectful Punjabi greeting. The food was delightful and the rooms were excellent. In my mind, India had progressed!