IMPRESSIONS OF AN NRI
Dr Harvinder Sahota, world renowned cardiologist from Laguna Beach, California, shares his impression with Editor and Publisher Sayantan Chakravarty ...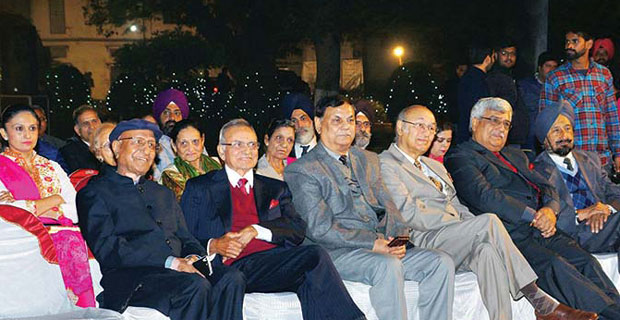 Dr Sahota, Chief Guest at the DAV College Jalandhar centenary function, alongside other distinguished guests
The following day, December 15, the principal of Khalsa College GarhdiwalaDrSatwinder Singh Dhillon came to meet us and briefed us on the activities and progress in his institution. Soon we were back at the Amritsar airport, this time for our departure back home. Like in Mumbai, services at the Amritsar airport were highly efficient and we found a large number of choices in terms of the airlines one could opt for. The facilities at the airport were impressive. The staff overall was very courteous. The Amritsar airport is getting busier by the day which in itself is a sign of progress. Domestic and international flights are frequent. Yes, and there was no loss of luggage. At this point I'd like to recognize the life-long friendship with Daya Singh and his family, especially his son Jatinder Pal Arora (Rinku) who keeps me updated about news from India and the Amritsar airport. I thank him for this.