IMPRESSIONS OF AN NRI
Dr Harvinder Sahota, world renowned cardiologist from Laguna Beach, California, shares his impression with Editor and Publisher Sayantan Chakravarty ...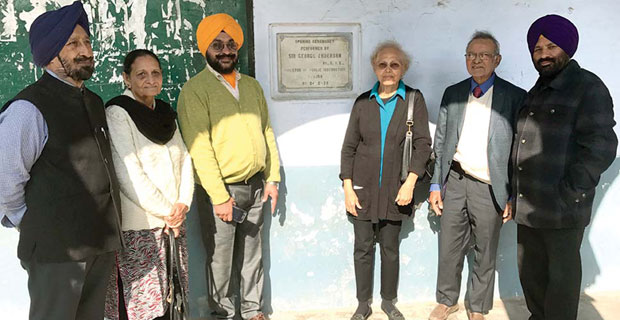 At the Government High School in Ferozepur Cantonment whose opening ceremony was carried out on February 24, 1925 in the presence of the then Director of Public Instruction, Punjab, Sir George Anderson. Standing from left are MrMalkit Singh Kular and MrsJitenderSahotaKular (DrSahota's brother-in-law and sister), Principal of Government High School in Ferozpur Cantonment, DrAshaSahota, DrSahota and the P.T. teacher at the same school
On December 11 we went to my medical college in Patiala, the princely town of Rajas and Maharajahs. Our contact was Col. Karaminder Singh. He along with College Principal Dr B.S. Sidhu, Medical Superintendent DrRajanSingla, Deputy MS Dr M S Dangwal and Dr B S Sohal showed us around the college and hospital. Lots of improvements and constructions were on. I was impressed with the enthusiasm and sincerity of the hospital superintendent, the principal and the doctors. That night we were back to Jalandhar which acted as our headquarters.