LAND OF OPPORTUNITIES
While Slovakia will never excel for its size ...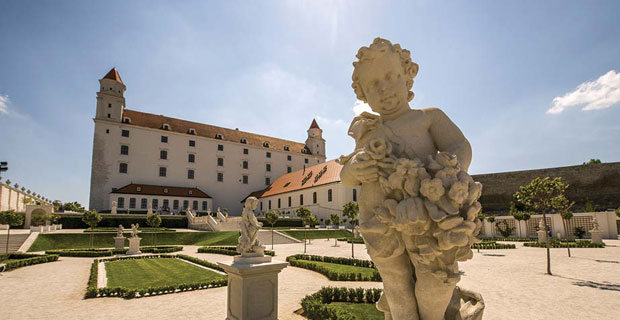 Slovakia is experiencing an ongoing economic expansion, driven by continually increasing domestic demand, as well as booming investment- both local and foreign. Real GDP growth has more than doubled since 2013 and reached 4.1% in 2018. It's the most open economy in the European Union –88.6%. 1st place in export of goods to GDP ratio, 4th in Europe in the export of goods and services to GDP: 96.3% and 12th out of 75 countries in the open market index by the International Chamber of Commerce. Consumer price inflation reached in 2019—2.4%. We can also boast with 5.4% unemployment rate. Which are 10 best reasons to Invest in our country? Strategic location in Europe with great export potential, political and economic stability, euro currency as one of a few in Central and Eastern Europe (CEE), CEE leader in labour productivity, cost- effective, skilled and educated labour force (Slovak universities offer large variety of study fields enabling multidisciplinary skill-set for future graduates—35 Universities, 151,316 students, 53,495 Graduates. Over 1,000 companies already cooperate with 19 universities across Slovakia), excellent multilingual skills (85% of Slovak population speaks at least one foreign language), one of the most open economies in the world, great potential for innovation, developments and steadily growing infrastructure network and attractive investment incentives.
National R&D Specialisation Strategy is focused on innovation support through cooperation between enterprises and research institutions in key sectors of the Slovak economy—material research and nanotechnology, biomedicine and biotechnology, ICT (incl. Electronics) with success stories like SPINEA-twin spin gearboxes, VRM—virtual reality simulators, CEIT-skull implants, AeroMobil- flying car, SAV- aluminium foam, CEIT-automatic logistic system. 30% of all outputs in international scientific journals on materials search originates from Slovakia. Slovakia is a global superpower in car manufacturing and leader in the number of cars produced per inhabitant. Manufacturing 180 cars per 1,000 inhabitants, it has occupied the top spot since 2013. Slovakia became the seat of the worlds famous automobile manufactures like Volkswagen, PSA Peugeot Citroen, Kia Motors, and most recently Jaguar Land Rover. Bratislava's Volkswagen plant is the only car manufacturing plant in the world that manufactures five vehicle brands under one roof (VW, Audi, Porshe, Škoda, SEAT). The models from Bratislava's production are not produced anywhere else in the world, and more than 99% of the production is intended for export.