Surge in Yoga Culture in America
For the last several years, yoga and meditation are becoming more acceptable in America...
Indra Devi was the first to teach and propagate nonreligious yoga for the American mainstream, with an emphasis on its physical benefits. She opened a yoga studio in Hollywood in 1947 with emphasis on the physical benefits of yoga. She was born Eugenie Peterson in Latvia on May 12, 1899 and went to India in 1927 for three months. She was not happy coming back and returned to India where she became a rising star as a dancer and actress in Indian films. In 1930, she married Jan Strakaty, the commercial attaché to the Czechoslovak Consulate in Bombay. She started learning yoga in 1937 from Sri Tirumalai Krishnamacharya. She became the first Western woman and the first woman chela (pupil) of an Indian yoga teacher. In 1938, her husband was transferred to China. At the urging of her teacher Krishnamacharya, Indra opened a yoga school in Shanghai in 1939. Many Americans and Russians joined the school to learn yoga. There, she became known as Mata Ji, which means mother. She wrote her first book "Yoga, the Art of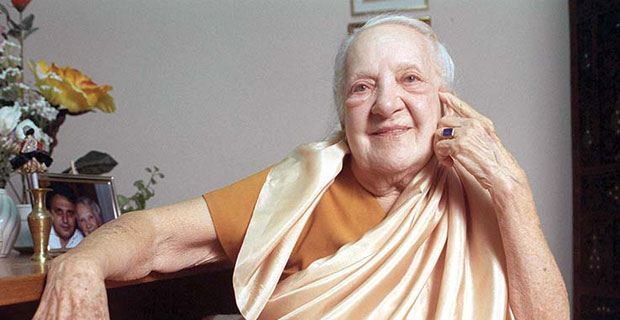 Indra Devi
Reaching Health and Happiness." It was believed to be the first book on yoga written by a Westerner to be published in India. In 1947, a year after her husband passed away, she moved to California. In an effort to publicize and spread yoga for health and wellness, she cultivated movie stars like Gloria Swanson and other famous people like Yehudi Menuhin to come to her Hollywood yoga studio. She promoted yoga to Americans as a system of physical exercise, consisting of a series of poses, postures and positions. She reached thousands of people through her books on yoga, two, "Forever Young, Forever Healthy" and "Renew Your Life by Practicing Yoga" were the best sellers.