An Important Symbol of Strategic Partnership
As India grows to become one of the global economic players ...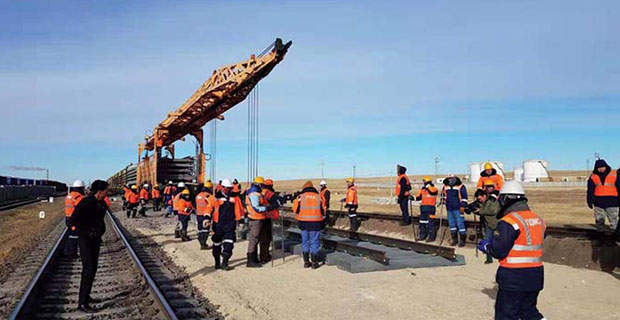 Railwayline under construction
The oil refinery in Mongolia elevates to new higher level and adds another new page in the rich annals of long-standing friendly relations between Mongolia and India. To illustrate, from the time the project was launched in 2017, there have been numerous high level bilateral visits and meetings. Home Minister of India Rajnath Singh, the late External Affairs Minister Smt. Sushma Swaraj, Minister of Oil and Natural Gas Dharmendra Pradhan visited Mongolia and from the Mongolian side, President Kh. Battulga, Minister and Chief Cabinet Secretary D. Oyun-Erdene, Defence Minister N. Enkhbold, and Minister of Mining and Heavy Industry D. Sumiyabazar visited India. The focus of these visits and meetings centred on the oil refinery project in Mongolia.
Oil refinery ground-breaking ceremony was held at Altanshiree soum (district) of Dornogobi aimag (Province) in the south of the country on 22 June 2018, graced by the participation of Mongolian Prime Minister U.Khurelsukh and Indian Home Minister Rajnath Singh.